How we help you diagnosis Rare Diseases

* When available, we perform a biochemical pre-test consisting of an enzyme test and/or a biomarker test.
Rare Diseases
One Rare Disease may affect only a handful of patients, and another may touch thousands. More than 30 million people are affected.
50% of Rare Diseases affect children.
Over 6,000 Rare Diseases are characterized by a broad diversity of disorders and symptoms that vary not only from disease to disease but also from patient to patient suffering from the same disease. Relatively common symptoms can hide underlying rare diseases leading to misdiagnosis and delaying treatment. Rare Diseases are often substantially disabling. The patient's quality of life is affected by the lack or loss of autonomy due to the chronic, progressive, degenerative, and frequently life-threatening aspects of the disease.
The fact that there are often no existing effective cures adds to the high level of pain and suffering endured by patients and their families.
Our diagnostic services help to improve diagnosis, chance for treatment and to help families, including their children, obtain fast and reliable diagnosis.
Our Activities and disease categories
About our Rare Disease Diagnostics
What can cause a Rare Disease?
Nearly 80% of rare diseases have been identified with genetic origins while others result from infections (bacterial or viral), allergies and environmental causes.
Why is it so important to think of Rare Diseases?
Rare Diseases should be included in differential diagnosis of many common diseases. Often not recognized, patients may suffer over many years until a diagnosis is made. Fortunately, many physicians are now aware of these diseases, and we assist and support them by delivering enzymatic, biomarker and/or genetic results.
How to Order Diagnostic Services for Rare Diseases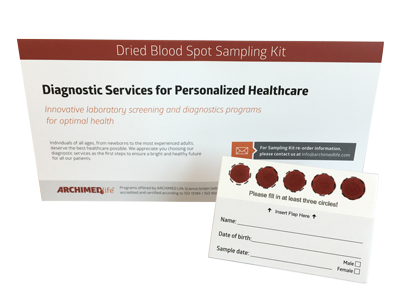 Our Diagnostic Services for Rare Diseases include comprehensive options for biochemical and genetic testing. Additionally you can choose complete panel diagnostic programs with combined enzyme testing, biomarker testing, and genetic confirmation using full gene sequencing.
All of our services are available to any interested physician or healthcare professional worldwide.
As part of our diagnostic services, we supply complimentary ARCHIMEDlife sampling kits. You can order your sampling kits and diagnostic services through our easy and secure WEBPORTAL and receive your electronic medical report in five simple steps.
Five Simple Steps
---