Path to Diagnosis
Our service is ideal for the identification of several different types of muscular disorders in at-risk patients showing specific clinical symptoms or for an individual or family member who has a family history.
Rapid testing from Dried Blood Spots available:
Pompe Disease (enzyme activity).
5q-SMA (gene copy number).
Comprehensive gene panels for Limb-girdle muscular dystrophy (LGMD) and several other disease groups are available using the advantages of Next-Generation Sequencing and the advanced expertise of our genetic group.
In most cases, testing is perform using Dried Blood Spot (DBS) cards. This simple and minimally invasive technique supplies enough sample for biochemical testing and in most cases genetic confirmation testing as well.
Available tests and panels
Disorder / Disease
Test / Pre-Test
Genes
Pompe
Enzyme testing:
acid α-Glucosidase
GAA
5q-Spinal Muscular Atrophy (SMA)
Molecular pre-test:
SMN1, SMN2 copy number
SMN1
Duschene Muscular Dystrophy
Gene sequencing
DMD
Muscle glycogenoses
Gene sequencing panel
AGL, ALDOA, ENO3, GAA, GYG1, GYS1, LDHA, PFKM, PGAM2, PGK1, PGM1, PHKA1, PHKA2, PHKB, PHKG2, PYGL, PYGM, RBCK1, GBE1
Limb-girdle muscular dystrophy, Autosomal dominant
Gene sequencing panel

BAG3, DES, FLNC, LMNA, CAV3, COL6A3, CAPN3, COL6A1, COL6A2, HNRNPDL, MYOT, TNPO3, DNAJB6
Limb-girdle muscular dystrophy, Autosomal recessive
Gene sequencing panel
ANO5, BVES, DAG1, DES, DOK7, DYSF, FKRP, FKTN, GMPPB, GNE, ISPD, LAMA2, PLEC, POGLUT1, POMGNT1, POMGNT2, POMT1, POMT2, SGCA, SGCB, SGCD, SGCG, TCAP, TOR1AIP1, TRAPPC11, TTN, COL6A3, TRIM32, CAPN3, COL6A1, COL6A2
Muscular dystrophy, facio-scapulo-humeral
Gene sequencing

DUX4
Muscular dystrophy, congenital
Gene sequencing panel
ACTA1, B3GALNT2, B4GAT1, COL4A1, COL12A1, DAG1, DOLK, DPM1, DPM2, DPM3, DYSF, FHL1, FKRP, FKTN, GMPPB, INPP5K, ISPD, ITGA7, LAMA2, LARGE1, LMNA, MICU1, PLEC, POGLUT1, POMGNT1, POMGNT2, POMK, POMT1, POMT2, SELENON, TCAP, TRAPPC11, SIL1, COL6A3, COL6A1, COL6A2, SYNE1, DMPK, DMD, CHKB
Quality:
Fully validated and accredited* according to the highest quality standards for Medical Laboratories (ISO 15189).
Methodologies:
Enzyme and biomarker assays by Clinical Mass Spectrometry.
Genetics by Sanger and Next-Generation Sequencing platforms.
About Muscular Disorders
In general, Glycogen storage diseases (GSD) are metabolic disorders caused by enzyme deficiencies affecting either glycogen synthesis, glycogen breakdown or glycolysis (glucose breakdown), most dominant in muscles and/or liver cells.
Pompe disease (GSD II) has impaired acid α-glucosidase (GAA) activity. A zero activity may cause the infantile onset of disease (infantile Pompe, classical form) beginning within a few months of birth. Infants experience muscle weakness (myopathy), poor muscle tone (hypotonia), an enlarged liver (hepatomegaly), and heart defects.
About 5q-SMA and Duchenne Muscle Disorders?
Spinal muscular atrophy (SMA) is a degenerative neuromuscular disease with an incidence of 1:10,000. This rare condition is the most common lethal inherited disorder of infants. Faulty survival motor neuron (SMN) 1 genes lead to a lack of functional SMN proteins. These proteins are essential for normal motor neuron function. Read more about 5q-SMA and our diagnostic services at www.archimedlife.com/sma.
Duchenne and Becker muscular dystrophy (DMD) is a rare genetic disease primarily affecting males, however, in rare cases, also affects females. DMD is characterized by progressive muscle weakness and wasting (atrophy), primarily affecting skeletal and heart (cardiac) muscles.
About the complexity of Limb-Girdle Muscular Dystrophies?
Limb-girdle muscular dystrophy (LGMD) is a group of diseases that causes weakness and wasting of the proximal muscles specifically the shoulders, upper arms, pelvic area, and thighs. The severity, age of onset, and features of LGMD vary among the many subtypes of this condition and may be inconsistent even within the same family. Signs and symptoms may first appear at any age and generally worsen with time, although in some cases they remain mild.
How to Order Diagnostic Services for Muscle Disorders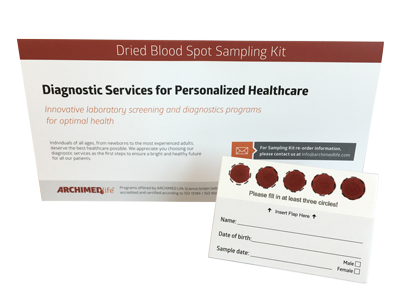 Our tests and diagnostic panels for Muscular Disorders typically include an enzymatic pre-test targeting enzyme deficiency for Pompe Disease, and quantitative measurement of gene copy numbers for SMN1 and SMN2 for 5q-SMA. In cases of positive or conspicuous pre-test results, genetic molecular analysis can be included.
All of our services are available to any interested physician or healthcare professional worldwide.
As part of our diagnostic services, we supply complimentary ARCHIMEDlife sampling kits. You can order your sampling kits and diagnostic services through our easy and secure WEBPORTAL and receive your electronic medical report in five simple steps.
Five Simple Steps
---