Path to Diagnosis
Leukodystrophies and genetic leukoencephalopathies are a large group of genetic disorders affecting central nervous system white matter. Our service is ideal for the identification of several different types of leukodystrophies and genetic leukoencephalotpathies in at-risk patients showing specific clinical symptoms or for an individual or family member who has a family history.
*New: Fast and reliable biochemical assays for Metachromatic Leukodystrophy (MLD), Krabbe disease and X-Linked adrenoleukodystrophy (ALD) including Biomarker (Sulfatides) for MLD, are available as a pre-test prior to genetic testing.
In most cases, testing is performed using Dried Blood Spot (DBS) cards. This simple and minimally invasive technique typically supplies enough sample for biochemical testing as well as genetic confirmation testing.

Available enzymatic and biomarker tests:
Disease
Enzyme
Biomarker
MLD
Arylsulfatase A (ARSA)
Sulfatides
Krabbe
Galactosylceramidase
Psychosine
GM2-gangliosidosis -
Tay Sachs
β-Hexosaminidase A
GM2-gangliosidosis -
Sandhoff
Total β-Hexosaminidase (A+B)

X-ALD
--
C26:0 Lyso PC
C24:0 Lyso
Available single gene tests:
Disease(s)
Gene
OMIM #
Inheritence
MLD
ARSA
607574
AR
Krabbe
GALC
606890
AR
GM2-gangliosidosis -
Tay Sachs / Sandhoff
GM2, HEXA, HEXB
613109, 606869, 606873
AR
X-ALD
ABCD1
300371
XL
Available small gene panels:
| Panel | Genes |
| --- | --- |
| Metachromatic Leukodystrophy Panel | ARSA, ASPA, GALC, HEXA, HEXB, PSAP, SUMF1 |
| Leukodystrophy, hypomyelinating Panel | COL4A1, CSF1R, LMNB1, RARS, COL4A2, POLR3A, NOTCH3 |
Available large gene panels:
| Panel | Genes |
| --- | --- |
| Leukoencephalopathy | AARS2, ABCD1, ADAR, AIMP1, ARSA, ASPA, COL4A1, CSF1, DARS2, EIF2B1, EIF2B2, EIF2B3, EIF2B4, EIF2B5, FAM126A, GALC, GFAP, GJC2, HEPACAM, HSPD1, IFIH1, LMNB1, MLC1, NKX2-6, PLP1, POLR1C, PSAP, PYCR2, RARS, RNASEH2A, RNASEH2C, RNASET2, TREM2, TUBB4A, TYROBP, SUMF1, HTRA1, RNASEH2B, CLCN2, POLR3A, POLR3B, NOTCH3, TREX1, SAMHD1 |
| Leukodystrophies + hereditary leukoencephalopathies (adults) | AARS2, ABCD1, ACP5, ADAR, ALDH3A2, ARSA, AUH, CBS, CLN3, CLN6, CLN8, COL4A1, CSF1R, CTSD, CTSF, CYP27A1, DARS2, DDX58, DNAJC5, EIF2B1, FA2H, FUCA1, GALC, GAN, GFAP, GJC2, GLA, GLB1, HEPACAM, HEXA, HEXB, HMGCL, IFIH1, ISG15, LMNB1, MAN2B1, MANBA, MCOLN1, MFSD8, MLC1, MTHFR, NPC2, PLP1, POLR1C, PPT1, PSAP, PSMB8, RNASEH2A, RNASEH2C, TREM2, TUBB4A, TYROBP, GBE1, NPC1, SLC17A5, PEX7, COL4A2, TMEM173, HTRA1, GBA, RNASEH2B, CLCN2, CLN5, PHYH, POLR3A, POLR3B, GCDH, NOTCH3, TREX1, SAMHD1 |
Quality:
Fully validated and accredited* according to the highest quality standards for Medical Laboratories (ISO 15189).
Methodologies:
Enzyme and biomarker assays by Clinical Mass Spectrometry.
Genetics by Sanger and Next-Generation Sequencing platforms.
About Leukodystrophies and genetic Leukoencephalopathies
What are Leukodystrophies and genetic Leukoencephalopathies?
Leukodystrophies are heritable disorders affecting the white matter of the central nervous system (CNS) with or without peripheral nervous system involvement. These disorders have in common glial cell or myelin sheath abnormalities. Where known, neuropathology is primarily characterized by the involvement of oligodendocytes, astrocytes, and other non‐neuronal cell types. Although in many disorders the mechanism of disease remains unknown, other cases are suspected to include significant axonal pathology.
Genetic leukoencephalopathies are disorders with significant, if not primary, white matter abnormalities that do not meet criteria for inclusion as a leukodystrophy. There is strong evidence for primary neuronal involvement and prominent systemic manifestations that overshadow the white matter abnormalities.[1],[2]
How are Leukodystrophies and genetic Leukoencephalopathies diagnosed?
The exact diagnosis is difficult as phenotypes are variable and distinct clinical presentations can be observed within the same family. Genetic testing is leading to an expansion of the phenotypic spectrum of the leukodystrophies/encephalopathies. These findings underscore the critical importance of genetic testing for establishing a clinical and pathological diagnosis.
How to Order Leukodystrophies and genetic Leukoencephalopathies Diagnostic Services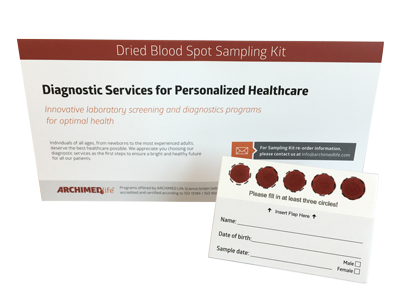 Our tests and diagnostic panels for Leukodystrophies and genetic Leukoencephalopathies typically include an enzymatic pre-test targeting enzyme deficiency and additional biomarker testing where available. In cases of positive or conspicuous pre-test results, genetic molecular analysis can be included.
All of our services are available to any interested physician or healthcare professional worldwide.
As part of our diagnostic services, we supply complimentary ARCHIMEDlife sampling kits. You can order your sampling kits and diagnostic services through our easy and secure WEBPORTAL and receive your electronic medical report in five simple steps.
Five Simple Steps
---