Path to Pharmacogenetics
Cytochrome P450 (CYP) enzymes are a group of enzymes commonly involved in drug metabolism, and genetic variation in the genes encoding CYPs are associated with variable drug response. The genes CYP2D6, CYP2C9, CYP2C19, and CYP3A4 are the most functionally important in Pharmacogenomics [1].
Additionally with Rare Diseases, CYP2D6 plays an an essential role in therapies such as substrate reduction therapy [2].
Find a comprehensive list of Pharmacogenomic Genes and Associated Drugs here (external link).
CYP2D6 Genotyping
Fully validated and accredited* CYP2D6 genotyping identifying over 15 polymorphism variants including gene rearrangements associated with the deletion (*5) and duplication genotypes. Available fast and easy from Dried Blood Spots.
Available genetic testing options:
| Gene | OMIM # | Inheritance |
| --- | --- | --- |
| CYP1A1 | 108330 | Mult and / or SMu |
| CYP1A2 | 124060 | AR |
| CYP2C19 | 124020 | AR |
| CYP2C9 | 601130 | AD |
| CYP2C6 | 124030 | AR |
Quality:
Fully validated and accredited* according to the highest quality standards for Medical Laboratories (ISO 15189).
Methodologies:
Genetics by CYP2D6 polymorphism identification.
Genetics by Next-Generation Sequencing.
How to Order Pharmacogenetic Laboratory Services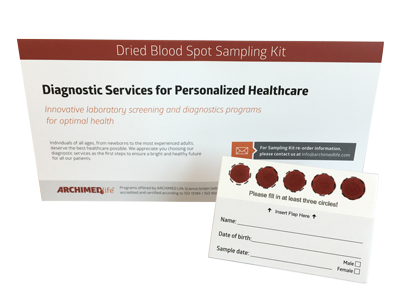 We support Pharmacogenetic testing with fully validated and accredited assays. We offer fast and reliable testing for CYP2D6 plus other important Cytochrome P450 genes using Dried Blood Spots.
All of our services are available to any interested physician or healthcare professional worldwide.
As part of our diagnostic services, we supply complimentary ARCHIMEDlife sampling kits. You can order your sampling kits and diagnostic services through our easy and secure WEBPORTAL and receive your electronic medical report in five simple steps.
Five Simple Steps
---