Path to MPS Diagnosis
Our service is ideal for the identification of Mucopolysaccharidosis in at-risk patients showing specific clinical symptoms or for an individual or family member who has a family history of MPS.
Testing is fast and safe using Dried Blood Spot (DBS) cards. This simple and minimally invasive technique supplies enough samples for biochemical testing and in most cases genetic confirmation testing as well.

Available enzymatic and genetic tests:
Disease
Enzyme Tests
Genetic Tests
MPS I
Mucopolysaccharidosis Type I
α-L-Iduronidase
IDUA
MPS II
Mucopolysaccharidosis Type II
Iduronate-2-sulfatase
IDS
MPS III
Mucopolysaccharidosis Type III
N-α-Acetylglucosaminidase (MPS IIIB)
SGSH (MPS IIIA), MAGLU(MPS IIIB), HGSNAT (MPS IIIC), GNS (MPS IIID),
MPS IVA
Mucopolysaccharidosis Type IVA
N-Acetylgalactosamine-6-sulfate-sulfatase
GALNS
MPS IVB
Mucopolysaccharidosis Type IVB
ß-D-Galactosidase
GLB1
MPS VI
Mucopolysaccharidosis Type VI
Arylsulfatase B
ARSB
MPS VII
Mucopolysaccharidosis Type VII
ß-Glucuronidase
GUSB
Mucopolysaccharidoses
Gene Panel
--
ARSB, GALNS, GLB1, GNS, GUSB, HGSNAT, HYAL1, IDS, IDUA, NAGLU, SGSH
Differential diagnosis options:
Disease
Enzyme Tests
Genetic Tests
α-Mannosidosis
α-Mannosidase
MAN2B1
Mucolipidosis Type I alpha/beta
Mucolipidosis Type III alpha/beta
--
GNPTAB
Mucolipidosis Type III gamma
--
GALNS
Quality:
Fully validated and accredited* according to the highest quality standards for Medical Laboratories (ISO 15189).
Methodologies:
Enzyme assays by Clinical Mass Spectrometry.
Genetics by Next-Generation Sequencing.
About MPS
What is MPS?
Mucopolysaccharidoses (MPSs) are a group of chronic, progressive lysosomal storage diseases (LSDs) caused by an enzyme deficiency leading to an accumulation of glycosaminoglycans in the body resulting in multi-system impairments.
Which mutation causes an enzyme deficiency?
These disorders are caused by different enzyme deficiencies resulting in the inability to break down glycosaminoglycans (formerly called mucopolysaccharides) into smaller sugar molecules. Consequently, glycosaminoglycans including chondroitin sulfate, dermatan sulfate, heparan sulfate, keratan sulfate, and/or hyaluronic acid accumulate leading to impaired cell function.
What are the affects of Mucopolysaccharidoses?
For individuals affected with MPS, glycosaminoglycans accumulate in arteries, eyes, skeleton, joints, skin, ears, and/or teeth. Glycosaminoglycans can also build-up in the respiratory system, spleen, liver, central nervous system, bone marrow, and blood. Depending on which of the eleven known enzymes are affected as well as the level of enzyme activity, different clinical manifestations are described varying from mild to severe forms with early death.
Are there differential diagnoses of Mucopolysaccharidoses?
Mucolipidosis, a lysosomal storage disorder involving the accumulation of lipids, shares some of the same clinical symptoms as MPSs such as growth defects and neurological damage. Another LSD, α-Mannosidosis, has been discovered in patients suspected of MPS [1].
How to Order MPS Diagnostic Services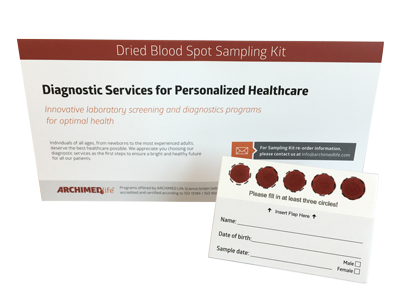 Our Diagnostic Service for Mucopolysaccharidoses includes testing for several MPSs including enzyme assays for MPS I, II, IIIB, IVA, IVB, VI and VII as well as any necessary genetic molecular analysis.
All of our services are available to any interested physician or healthcare professional worldwide.
As part of our diagnostic services, we supply complimentary ARCHIMEDlife sampling kits. You can order your sampling kits and diagnostic services through our easy and secure WEBPORTAL and receive your electronic medical report in five simple steps.
Five Simple Steps
---